Historic: Number of new registrations of leisure vehicles exceeds 100,000 for the first time
For the first time, more than 100,000 leisure vehicles were newly registered in Germany within a year. The caravanning industry surpassed the historic mark at the end of November. New registrations of leisure vehicles, thus, increased by 28.6 percent since the beginning of the year. Last month, a total of 5,973 motor caravans and caravans were newly registered. This represents almost a doubling (plus 91.6 percent) compared to November 2019.

Caravans continue on the road to success after a difficult spring
New registrations of caravans developed very positively again in November and rose by 41.5 percent to 1,450 vehicles. Between January and November, 27,7680 caravans were put on the market for the first time. This is 6.1 percent more than in the same period of last year.
November result doubled – motor caravan rally knows no end
New month, new record – that's how the time since the "corona lockdown" can be summed up in the motor caravan market. In November, new motor caravan registrations doubled compared to the same month last year (up 116.1 percent). 4,523 vehicles registered for the first time is a new record for the month of November. This means that 73,070 motor caravans were newly registered this year. This is a whopping 39.9 percent more than in the same period of the record-breaking year of 2019.
Newly registered leisure vehicles in Germany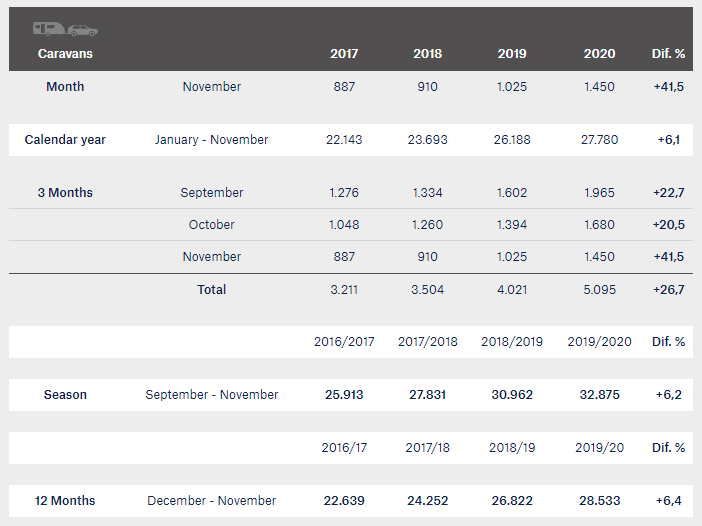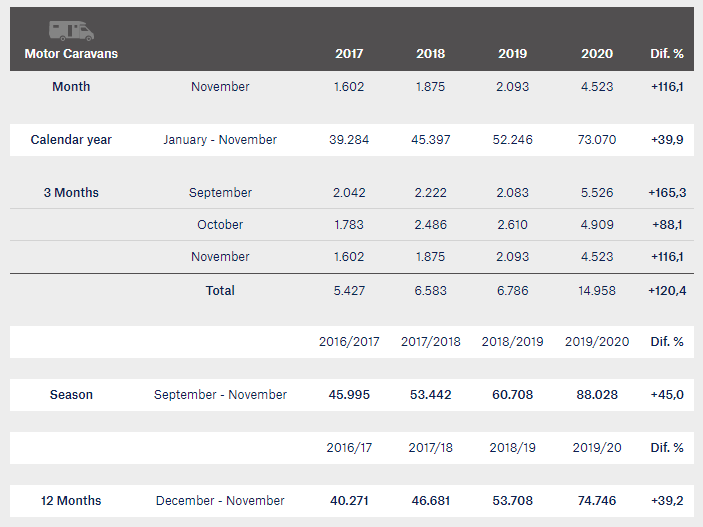 Source: CIVD evaluation of figures from the Federal Motor Transport Authority (KBA)