Electric propulsion in the RV industry
Green light to green mobility?
After a relatively slow start compared to the car industry, the use of pure electric and hybrid drives in the RV industry is now taking off like never before. Cost and weight issues remain but the all-electric motorhome is now a reality and on sale to the public.
Source: www.aboutcampbtob.eu
Words Terry Owen
Amazingly it's as long ago as December 2008 when the Freightliner Custom Chassis Corporation (part of the Daimler Group) prototyped what was then perhaps the world's first hybrid RV chassis the ecoFRED. A year later it became available for converters to order, with Winnebago being an early customer. The chassis featured a motor-generator drive unit between the transmission and engine, coupled to a lithium battery. Improvements in acceleration, fuel economy, emissions and service life were claimed, but it seems that very few were ever made. In the following years the adoption of electric drive systems in RV's was relatively slow, held back by cost, weight, and performance issues. More recently however, advances in battery technology combined with an increasing focus on vehicle emissions have revived interest and spurred on development. In this article we look at some of the key players and what they're producing.
AL-KO
Hybrid Power Chassis (HPC)
Developed in conjunction with Huber Automotive AG the HPC is based on AL-KOís variable lightweight chassis. It uses a 90 kW electrically driven rear axle coupled to a scalable lithium battery pack. The front axle is driven conventionally by a combustion engine. Either axle can be used to power the chassis or both can be used together. In this latter mode the rear axle can be used to generate power to top up the battery pack, which can also be charged via a conventional plug-in system. The range when on battery only is between 50 and 100 km, depending on customer requirements. The chassis will begin to appear in Fiat Ducato based motorhomes by the end of of 2020 and will offer significant advantages. Apart from low emissions and the possibility of four-wheel drive, the battery pack could be used to power on board equipment such as cooking, heating and air conditioning so freeing the motorhome from the need of a mains hook up.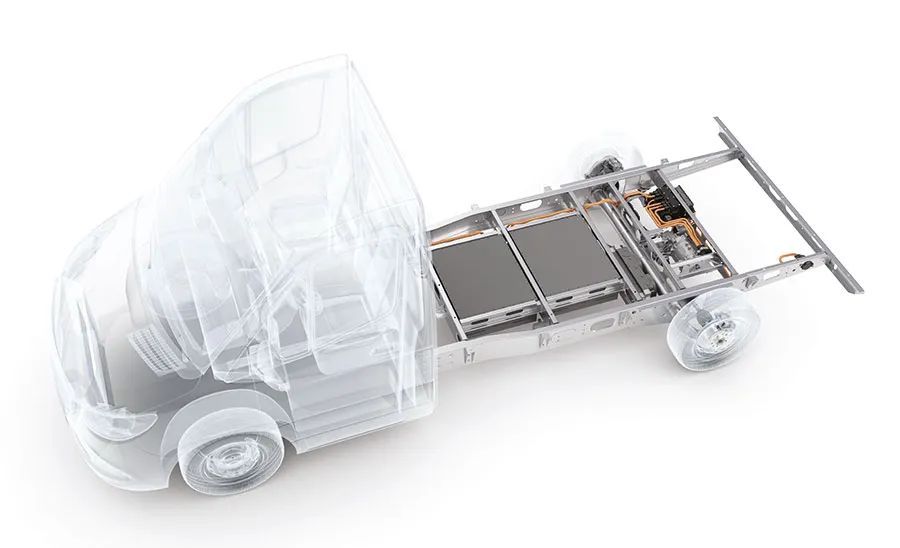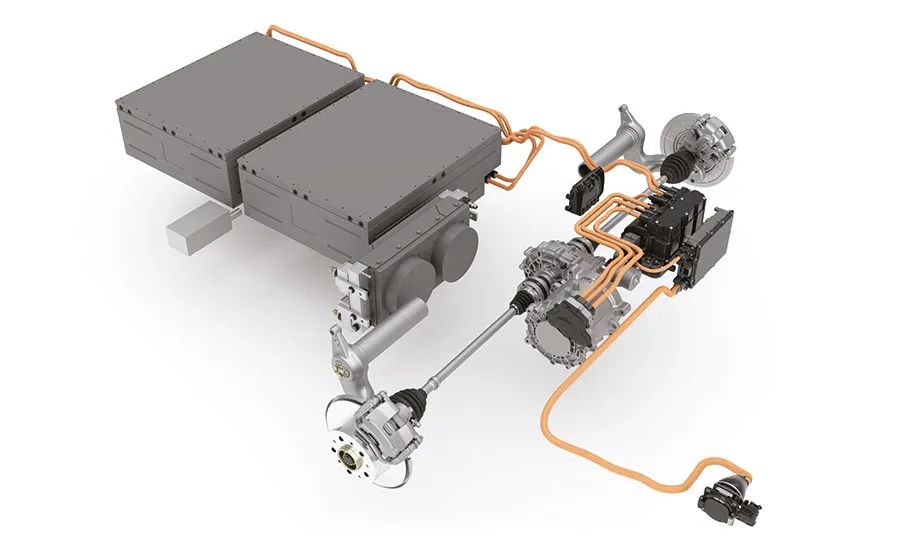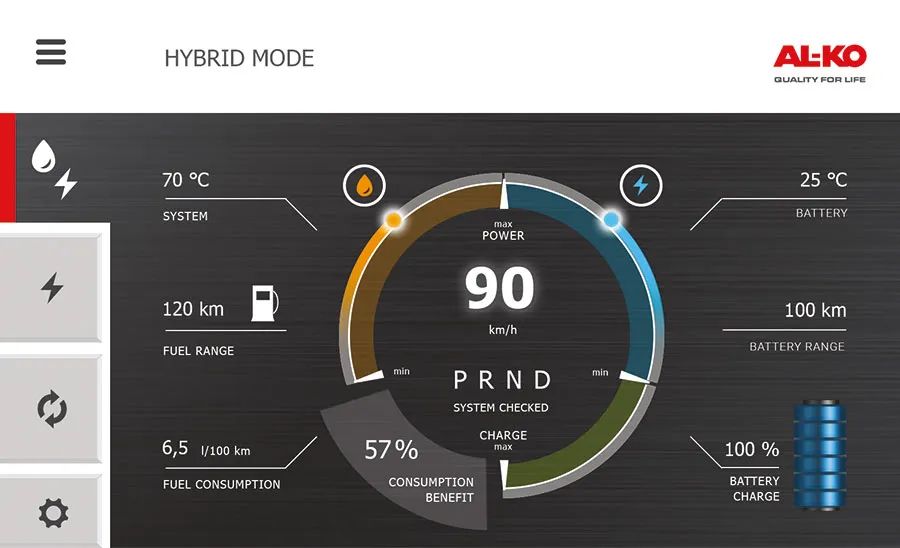 Next Generation Trailer Platform
This concept study from AL-KO and its partner Huber Automotive AG, shows what is possible with state-of-the-art, electrified drive technology and sensors. Intended for trailers and caravans up to 3.5 tonnes it is designed to reduce the drag loading on a towcar. This is particularly important with all electric and hybrid towing vehicles where the reduction in range when towing can be as much as 70%. Power is provided by a standard 48-volt motor-generator unit that connects to the wheels via a gearbox and differential. This is backed up by scalable storage batteries of 10-30 kWh that can be charged through regenerative braking, pulling power from the towcar, or a standard plug-in charger. The components are positioned close to the axle line and in such a way that there is no effect on the trailerís nose weight. Sensors transmit safety-relevant data to the electric drive control system, which powers or decelerates the wheels individually for maximum stability. The powered trailer axle serves as an additional traction aid to move the vehicle-trailer combination across difficult camping terrain. Ultimately, manoeuvring will also be made easier by integrating a suitable aid into the smart electric drive. As with AL-KOís Hybrid Power Chassis there is also the possibility of using the battery pack to provide power for onboard systems to give greater self-sufficiency.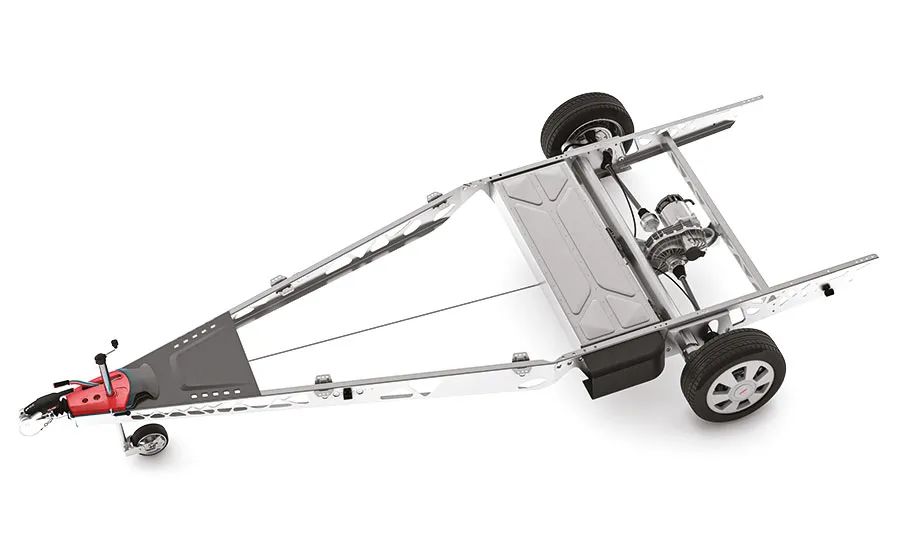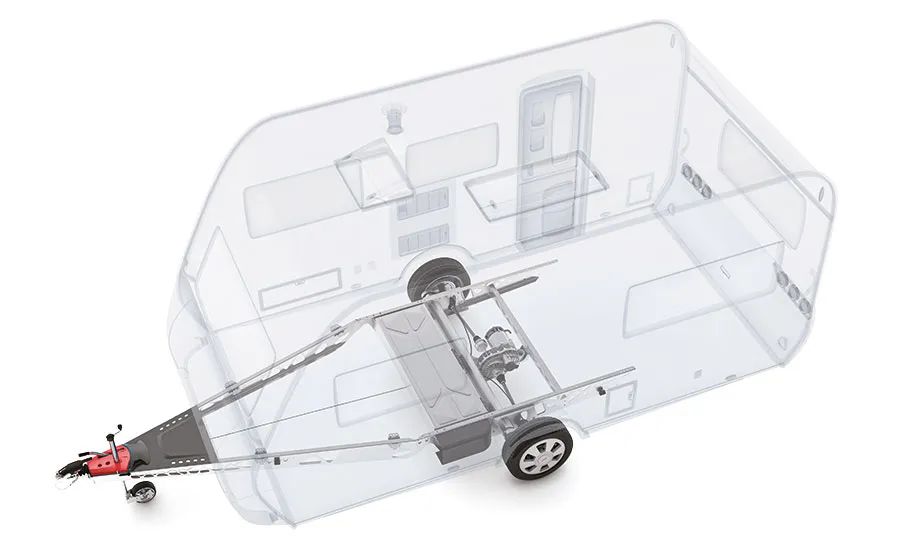 Dethleffs
One company spearheading development in this area is Dethleffs, part of the Erwin Hymer/Thor Industries Group. Keen to push its eco-credentials it's launched an exciting series of electric vehicles in recent times. "As a friend of the family, we also keep future generations in mind and therefore concern ourselves intensively with the topic of sustainability in our industry", explains Dethleffs Managing Director, Alexander Leopold. "Preservation of the natural environment is one of our most utmost goals, because caravanning and experiencing nature go hand in hand. For this reason, we have been working for many years on electromobility, which will be one of the keys to this", Leopold says with confidence. "We want to do pioneering work with our initiatives and are committed to establishing electromobility in caravanning."
Globevan e.Hybrid
Launched at the Caravan Salon 2019, Dethleffs claims the Globevan e.Hybrid to be the first motorhome with plug-in hybrid capability suitable for being manufactured in volume production. The basis of the Globevan e.Hybrid is a Ford Transit Custom van featuring Ford's e.Hybrid drive, which has an electrically driven front axle. Power is provided from a 13.6 kWh onboard rechargeable battery which provides a range of up to 50 km before recharging. This can be either from a plug-in supply or from the one litre EcoBoost petrol engine and generator. The petrol engine always runs in the optimum speed range with maximum torque and supplies the rechargeable battery with power, which in turn supplies the electric motor-generator. In this way the petrol engine can serve as a range extender by continuously charging the battery while driving. This gives the Globevan a maximum total range of 500 km. The combination of electric motor and combustion engine produces 355 Nm of torque with a power output of 92 kW (126 hp) to the front axle. The batteries can be recharged in under 5.5 hours from an ordinary household socket or within 3 hours from a fast-charging socket. The 497 cm (196 in) compact motorhome can sleep four people during vacations but quickly converts into an everyday means of transport. "For our first hybrid vehicle, we opted for a version of a motorised leisure vehicle suitable for city and daily use because the vehicle's concept and drive are designed so that you can cover 50 km exclusively using the electric drive system", MD Alexander Leopold explains. "This is a distance that many people travel every day in their vehicles, primarily in urban areas. Our Globevan is therefore able to serve not just as a holiday companion but also as a versatile first vehicle thanks to its compact dimensions and multifunctionality."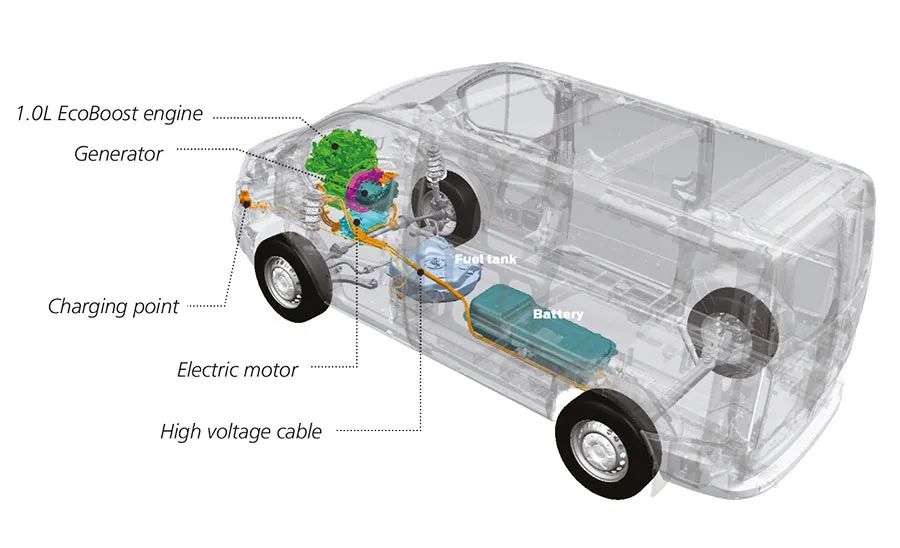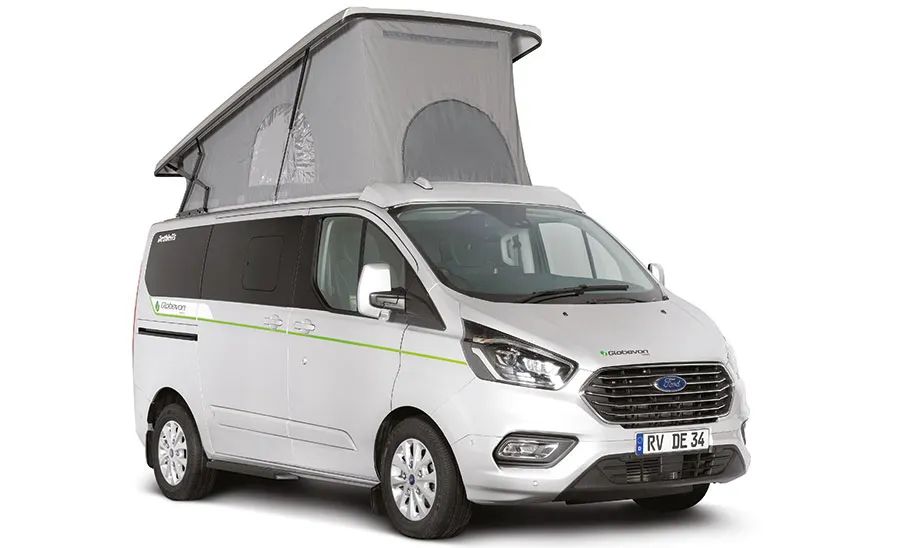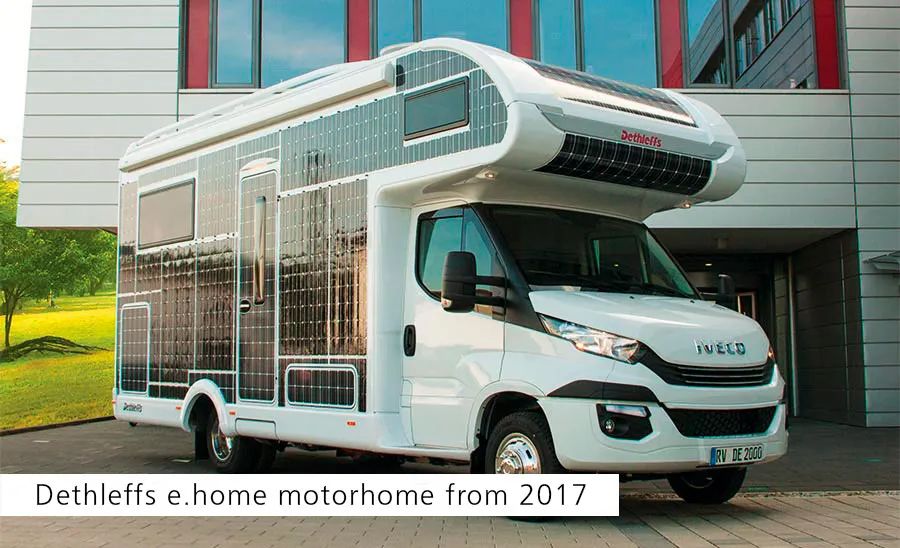 e.home motorhome
In 2017 Dethleffs launched the e.home all-electric motorhome concept vehicle. Based on an Iveco Daily Electric chassis using a liquid cooled three phase AC motor-generator it developed a power of 80 kW. Unusually electricity was stored in sodium nickel chloride batteries rather than the more usual lithium iron. It was also unusual in that all the onboard equipment was powered from those batteries. To help keep the batteries topped up, solar panels covered almost every external surface of the motorhome. Range was quoted as 150 km but this was expected to increase with improving battery technology. The concept vehicle was never going to make it into production but the ideas it provoked have undoubtedly spurred others on in the same direction.
e.home Coco
The e.home Coco first appeared at the CSD in 2018 – a touring caravan concept with electric booster motors, and an on board lithium battery. This could be charged up before setting out and regenerative braking used during the journey to help maintain the power available. The idea was to make the caravan towable by an all-electric or hybrid vehicle which might have a limited towing capacity. What we saw then was a tremendous piece of innovation but very much a concept, that had little or no road testing. For 2019 the e.home Coco is back, having undergone a significant revamp. What we now see is a fully operational prototype, ready to take to the road and undergo further testing. The two motor drive units from ZF are new, having moved inboard for better protection and to reduce un-sprung weight. Each has a rating of 29 kW. Drive is transmitted through conventional driveshafts with universal joints. A central control unit equalises the force on each wheel to ensure stable towing characteristics. Having two motors also makes it easy to use them for manoeuvring the caravan when not connected to the towcar. Lithium batteries giving a total of 80 kWh are mounted both before and after the axle in such a way as to have a neutral effect on noseweight. The rear battery pack is protected by a deformable aluminium crash beam. Unsurprisingly this level equipment adds a great deal of weight (600 kg) to the caravan and gives rise to the prospect of the towcar pulling a caravan much heavier than itself, possibly exceeding its train weight. As train weight limits are determined by the tow vehicleís performance on hill starts this raises the prospect of a rethink where electrically assisted trailers are concerned. Indeed, such a trailer is essentially a new class of vehicle that will need to undergo homologation. To this end Erwin Hymer Group has been member of the BEM (Bundesverband f¸r Elektromobilit‰t, or Federal Association for Electro-mobility) since summer 2019. This body has the objective of improving the legal framework for the expansion of electro-mobility in Germany. It networks key players from business, politics and the media to help bring about the necessary changes in legislation. These will be required for things such as driving licences and the approval of new classes of vehicle. Changes in legislation take time, the technical challenges are being solved much more quickly. Indeed, such is its confidence that, within the next 12 months, Dethleffs plans to tow the e.home Coco from its factory in Isny, southern Germany, across the Alps and down to Lake Garda in Italy, a distance of some 423 km.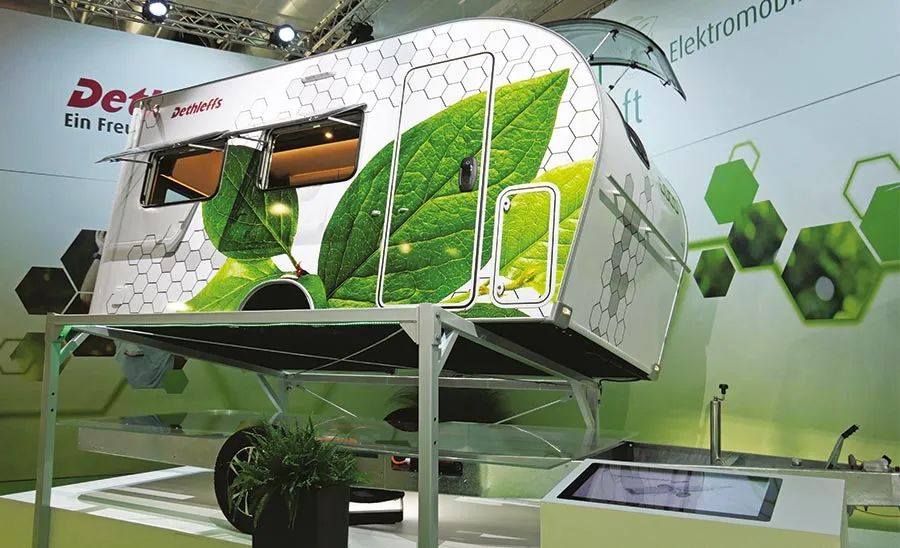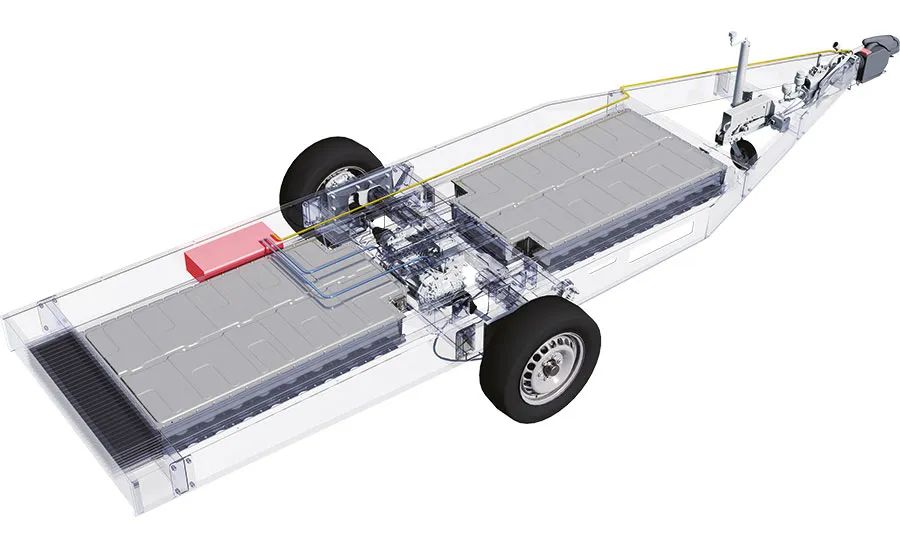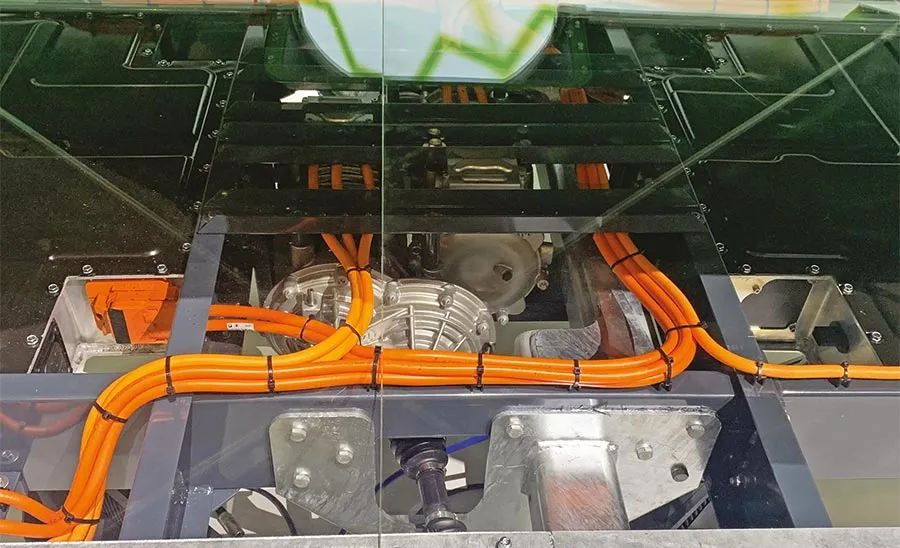 Bosch
Bosch's first concept for caravan drive electrification took pride of place on the Knaus Tabbert Innovation Stand at the CSD 2019. Designed to fit on a trailer chassis, it features an electric axle coupled to a scalable lithium battery pack.

The Bosch system is based around proven 48-volt circuitry as this can handle much more power that 12-volt systems. A single motor-generator drives each wheel through a gearbox and differential. Maximum power is rated at 12 kW although provision is made to fit a second motor-generator to bring this to 24 kW. The Bosch designed batteries are rated at 2.4 kWh with each weighing in at 15 kg. Up to eight of these can be placed in parallel to give a total capacity of 20 kWh. Without batteries, the weight of the drive system is just 40 kg, with one motor-generator fitted.

As with AL-KO's system the batteries can be charged through regenerative braking, pulling power from the towcar, or a standard plug-in charger. The intention is for the batteries to power other things when off grid but uniquely, the Bosch batteries are detachable, and one was shown plugged into an electric scooter.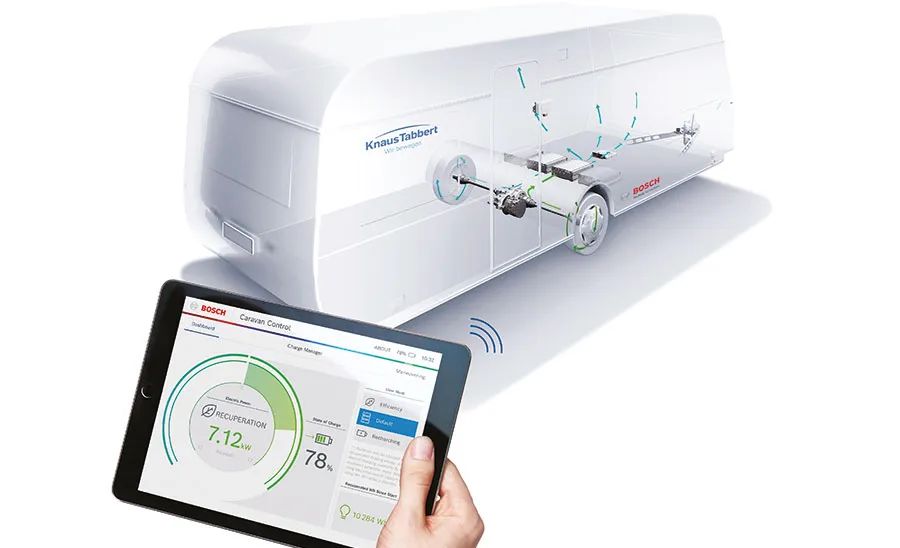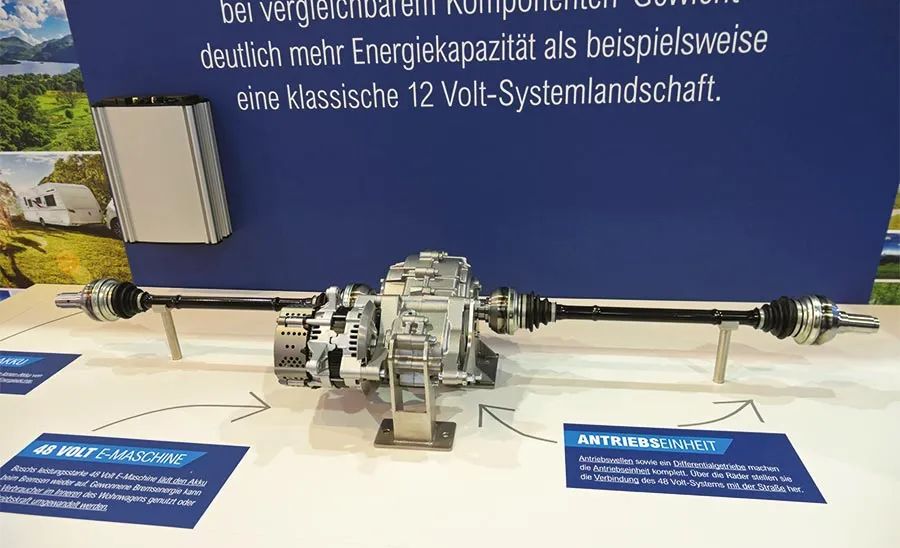 Iridium E Mobil Motorhome
Launched at the CMT Stuttgart in January 2019, the Iridium E Mobil is arguably the world's first all-electric motorhome to go on sale to the public. It results from a joint project involving Stuttgart-based electric vehicle specialist EFA-S and German motorhome distributor WOF. Standard models are based on a Mooveo motorhome from the Pilote Group, although more bespoke body solutions can be provided by Maurer Fahrzeugbau, a Swiss manufacturer of high-end, coachbuilt, motorhomes under the Starliner name.
There is no combustion engine. The motorhome relies solely on its batteries for both motive and habitation power although LPG is used for things like cooking. The drivetrain is already proven, having been installed on some 200 former diesel vehicles that had been converted by EFA-S for parcel delivery company UPS.

The Iridium E Mobil is built on Fiat Ducato underpinnings with the battery system powering the front axle. In first generation form (as launched at Stuttgart) it has a maximum range of about 300 km. This is provided by an 86-kWh battery pack and a synchronous motor providing 650 Nm of torque.

A second-generation version appeared at the Caravan salon in Dusseldorf. This has a range of up to 400 km from a 108-kWh battery and a motor providing 730 Nm torque.

The batteries are of lithium iron phosphate construction, with individual monitoring. The second-generation units use a new technology employing ceramic separators which manage without cobalt and nickel. This has boosted the energy density to 170 Wh/kg compared to just 120 Wh/kg for the first generation. They can be charged using AC or DC power depending on the available connection type. The charging capacity is 50 kW although there are plans to increase this to 100 kW in the future.

Both vehicles are about seven metres long and with variants from 4,000 to 4,800 kg. Prices are in the range 160,000 – 200,000 Euros depending on the model.