Golden October for the Caravanning Industry
The late summer of 2020 brought not only wonderful weather for German caravanning fans, but also excellent sales figures for the caravanning industry. After the best quarter in the industry's history, the rally continued seamlessly in October with a new record-breaking result. A total of almost 6,600 leisure vehicles were newly registered last month – an outstanding increase of almost 65 percent compared to the strong month of the previous year. Since the beginning of the year, new registrations of leisure vehicles have risen by more than a quarter to around 95,000 vehicles. This means that this year the mark of 100,000 newly registered vehicles should be broken for the first time.

Big plus in new caravan registrations in October
1,680 caravans were put on the market for the first time last month. Caravan registrations, thus, recorded a strong increase of over 20 percent compared to October 2019. A total of over 26,000 new units were registered between January and October. This is almost 5 percent more than in the same period last year. If the trend continues, the year-end result would be the best since 1995.
New motor caravan registrations almost doubled – record
New registrations of motor caravans almost doubled compared to October of the previous year (plus 88 percent) to over 4,900 vehicles. With the record result last month, the number of new motor caravans registered this year rose to a total of well over 68,500. This represents a whopping increase of almost 37 percent over the first ten months of 2019. Not surprisingly, this too represents a new all-time high. 2020 is already the best year in the history of the motor caravan market.
Newly registered leisure vehicles in Germany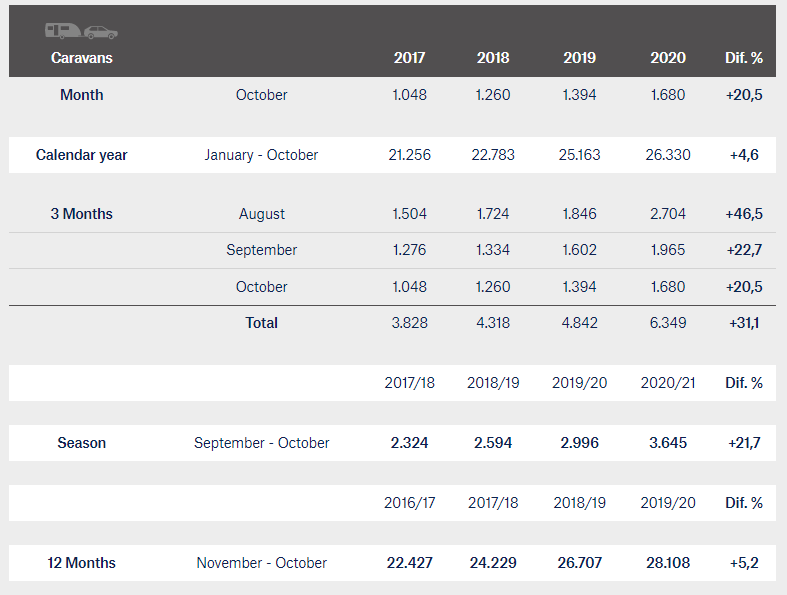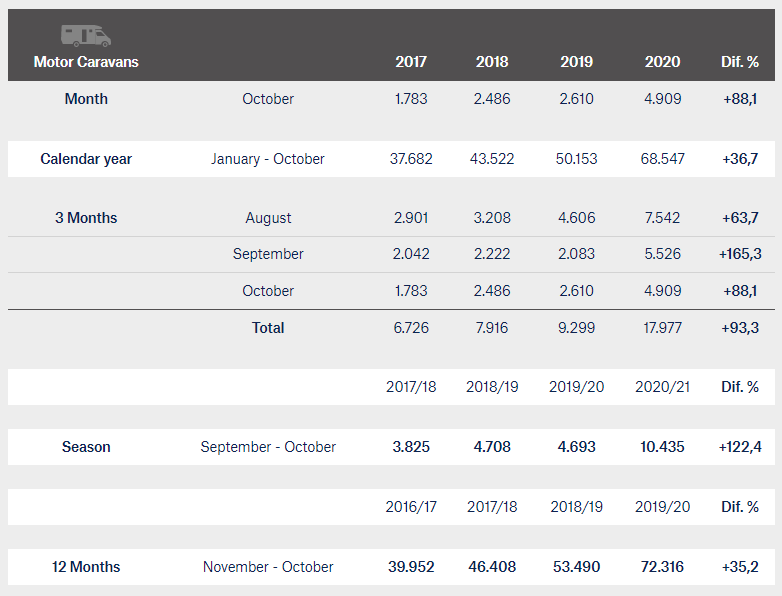 Source: CIVD evaluation of figures from the Federal Motor Transport Authority (KBA)