Already after three quarters: New registrations of leisure vehicles with record results
In September, new registrations of leisure vehicles rose sharply again. Around 7,500 newly registered vehicles mean a doubling of registrations compared to September 2019 and the best result for this month in history.

The third quarter was the most successful the industry has ever seen: New registrations of leisure vehicles almost doubled compared to Q3 2019 to roughly 34,000 units.
Since the beginning of the year, more than 88,000 vehicles have been newly registered – an increase of almost a quarter compared to the record figure from the previous year. This makes 2020 the most successful year for the caravanning industry after only three quarters.
New caravan registrations continue to recover
With approximately 2,000 newly registered vehicles, caravan registrations grew by roughly a quarter in September. Due to a strong catch-up effect following the Corona-related slump in spring, the third quarter was the most successful in the caravan market in history. Around 10,000 newly registered vehicles represent an increase of almost 50 percent. A total of nearly 25,000 caravans were newly registered in the calendar year 2020. This is about 4 percent more than in the first three quarters of the previous year.
Through the roof: new motor caravan registrations tripled in September, doubled in the third quarter
New motor caravan registrations shot through the roof in September, rising 165 percent to just over 5,500 vehicles – clearly a record for the month. The third quarter also brought a new record with just over 24,000 newly registered motor caravans. This represents no less than a doubling compared to the third quarter of 2019. The first nine months of this year saw growth of over a third to nearly 64,000 new registrations – another new all-time high already after three quarters of the year.
Newly registered leisure vehicles in Germany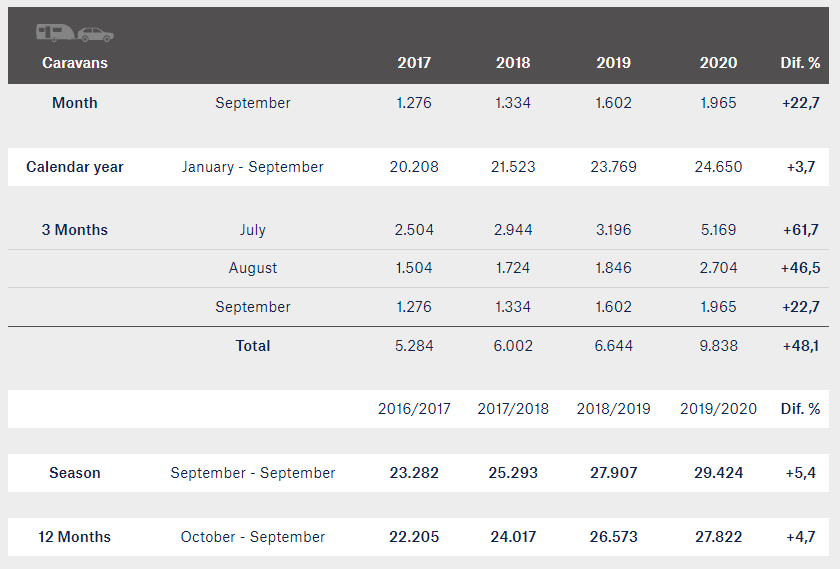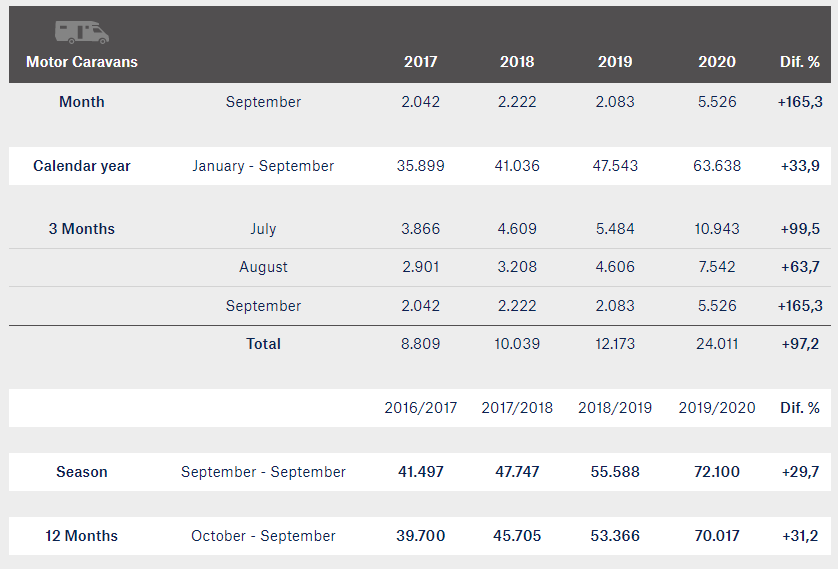 Source: CIVD evaluation of figures from the Federal Motor Transport Authority (KBA)