The 7th All in CARAVANING Concluded Successfully: Outstanding Achievements Continued with Well-recognized Business Value
 35,000 sqm exhibition area with 700 exhibitors (including campsites) and 450 show vehicles onsite
 22,193 visitors from 20 countries in three days
 Thematic activities were highly popular and attracted great attendance
 The first Caravaners' Camping Zone was organized successfully. 200 vehicles and nearly 300 RV fans gathered for a memorable experience.
The seventh edition of All in CARAVANING concluded successfully at the Etrong International Exhibition & Convention Center (Beijing) on June 24, 2018.
AIC 2018 was held for the first time at Etrong International Exhibition & Convention Center (Beijing). Thanks to the well-established AIC brand awareness in the past seven years, the flow of visitors at the event actually increased. In a total of three days, 22,193 visitors from 20 countries visited AIC 2018, which was a steady increase over the previous year. AIC received 8 visitor delegations including "AIC Yan Delegation", "CITIC Prudential Exclusive Delegation" and "Pinxiang Vision Delegation".
AIC 2018 drew the attention of Chinese mainstream media outlets, including CCTV, Beijing TV, China Daily, China News Agency and Xinhua News Agency that actively covered this highlight of caravan industry. Moreover, media outlets such as promobil and Reisemobil International from Europe also came to report on the event and brought the bustling AIC scene to the world. Industry media outlets including Xcar, Caravan News, FBLIFE, CCRV, dayrv.com and lvyouw.net were present onsite for live reports on the trade fair, bringing latest news updates about AIC 2018 around the clock.
Mr. Axel Bartkus, General Manager of Messe Düsseldorf (Shanghai) Co., Ltd., said: "We have been fully confident in moving to the new exhibition venue. The positive response to AIC this year proves that this is a wise decision which is in line with market demands, and we have withstood this test. The enthusiasm of visitors for RV holidays continues to rise, which makes us feel excited. It gives us a feeling for the trend of the future. For this reason, we have already had the exhibition plan for next year."
Exhibitor satisfaction once again improved as they achieved significant results
Thanks to the excellent exhibition space and facilities of the Etrong International Exhibition & Convention Center (Beijing), exhibitors are able to put on full display of their best exhibits. With eye-catching visual design and brand showcase, exhibitors greatly improved the quality of their presentation, bringing AIC ever closer to its parent show – the world's leading Caravan Salon from Düsseldorf, Germany in terms of professionalism and the international style.
A total of 35,000 square meters of exhibition space both indoors and outdoors witnessed the active and lively business talks between visitors and exhibitors that result in signature of numerous purchase orders and contracts. Many exhibitors made a good start on the first day of AIC 2018 by impressive sales. RV International, Yutong, Jinguan, LiveZone RV, Weihang RV, Huabeihui, Zhongya RV, Yate RV, Broadriver-horse, Yunshang RV, Qingdao Kailei, Sixing RV, Zhongqijingfu, among others have all sold a number of vehicles with remarkable results. The caravan accessories zone and camping zone also have been well received with a great number of visitors and outstanding sales outcome. The exhibitor questionnaire survey indicates that exhibitor satisfaction rate is as high as 89%, further supporting the tremendous business value that AIC brings with its continuous innovation.
Delivery of professional knowledge and RV culture through highly acclaimed concurrent events
Speech Corner for release of new vehicle/technology has been bustling with visitors. More than 30 press conferences and exchange meetings have been held here in three days, covering industry topics, technical forums, new product launch as well as experience sharing. Over 1,000 participants have been recorded at the Speech Corner. The multi-angle and all-round conference content helps visitors interpret and understand hotspot topics. Most of the participants expressed that they have "benefited greatly from it and got new ideas".
The B9 Game Zone, which debuted in the outdoor area, received great attention and participation. Despite the hot weather, visitors were highly engaged. Dynamic tactical game, rugby and other ball games took place one after the other with tremendous passion and vitality.
AIC CLUB's family activity zone continued its popularity in previous years. A total of nearly 3,000 families came to AIC 2018 for a wonderful weekend. Through a variety of games and educational programs, these "young caravan camping participants" were inspired and had a sound understanding of RV and its lifestyle.
In addition, the Anyi & AIC RV Football Tournament was successfully held on the evening of June 23. The passionate football game adds "flames" to the 2018 World Cup.
The colorful concurrent activities of AIC 2018 made it "not only a professional RV trade show" but also a "carnival" for all people.
AIC show comes closer to RV fans
This year, AIC launched its first Caravaners' Camping Zone. With full support from Green Mall Resort, the camping zone attracted about 300 RV fans with a total of 200 caravans in three days. In addition to visiting AIC, RV fans also experienced camping life in the camping zone, making new friends and sharing fun travel anecdotes.
On the evening of June 23, the first "Night of AIC RV Fans" was held successfully, bringing AIC closer to the RV fan groups. This is a key step for AIC, which marks the beginning of a more localized AIC that "connects with RV fans and follows the needs of end users".
Grand prizes announced at the glamorous AIC Award Ceremony
Once again, AIC 2018 Exhibitor Banquet this year was presented in the glorious style of an "Oscar Awards Ceremony". A total of 9 grand prizes were announced. The dinner party first presented the "AIC 2018 Outstanding Contribution Award", thanking domestic and foreign partner associations and agencies for their support and company for the past seven years.
The family that has been travelling the world for five years to 34 countries, i.e. the "RV Princess" won the title of "AIC Caravan Ambassador" this year. Mr. SHEN Zhiping and Mr. XIE Zanfeng received "Fashionable RV Owner" award.
The 2nd AIC AWARDS were officially announced, with 18 companies honored as MOTOR HOME OF THE YEAR, 6 companies awarded the title CARAVAN OF THE YEAR and 3 companies receiving MOBILE HOME OF THE YEAR title. All award receivers have successfully introduced outstanding caravans into the market, winning favor from users as well as recognition of the industry.
To promote innovation, AIC 2018 launched "AIC Innovation" for the first time this year which is an award honoring AIC caravan accessories exhibitors. 11 companies received this prestigious award.
Finally, AIC presented two new special awards, "Best Booth Innovation Award" and "Best Booth Design Award" in recognition of exhibitors' ingenuity in booth construction and brand display.
During the dinner, a Sino-German beer contest and a lucky draw also took place in the wonderful atmosphere with live band music. Chinese and foreign friends gathered together to celebrate the friendship and extend happiness to the next exhibition.
AIC 2019 - the 8th All in CARAVANING will be held at the Etrong International Exhibition & Convention Center (Beijing) on June 14-16, 2019. For more information, please scan the QR code and follow our official WeChat account or visit www.aicshow.com.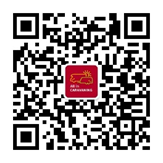 Exhibitors' Voices
Mrs.Tian Qun, President of China Self-driving Tour and Camping &Caravaning Association (STCCA) of CTACA / Managing Director of CITS Group Corporation
The exhibition has ended on a high note. We are delighted to find that with the continuous improvement of consumption capacity and consumption level, China's caravan tourism market has been attracting more and more attention from world-class caravan companies. As the first state-owned tourism company supervised by the central government to enter the caravan industry, "HKCTS•RV" will team up with outstanding domestic and international companies to advocate the positive caravan tourism culture and develop high-quality products that meet the needs of Chinese consumers. Meanwhile, we will continue to promote the development of the industry, meet the needs of the people for a better life, and forge ahead while remaining true to our original aspiration.
Mr. Fang Dehe, Secretary-general of China Association of Automotive Manufacturers Recreational Vehicle Industry Committee
The performance of AIC at the new site exceeded our expectations. It shows a high degree of professionalism and internationalization. The exhibitors and visitors had business talks in a warm atmosphere, which is essential for the development of the entire industry and reflects the strong momentum of the Chinese RV market.
Mr. Liao Hongbin, President of RV International
This year, AIC was held at a new site. Although the exhibition center is located in suburban Yizhuang, the organizers have made a lot of promotional efforts in advance, so the number of visitors has remained at a high level. As an integrated service provider of the caravan camping industry chain, RV International displayed products such as caravans, tents, aluminum mobile homes and outdoor camping equipment, and launched many commercial innovation models, which were supported and recognized by the industry. We sincerely hope that AIC will expand its scale, achieve greater success, and become the benchmark of China's caravan camping industry exhibitions.
Mr. Hong Junhua, General Manager of Hunan Pilote RV Co.,Ltd
Hunan Pilote has participated in AIC for the first time, but our Pilote brand and the organizer Messe Düsseldorf are already "old friends" in the European markets. The new exhibitors mean that AIC is becoming even more significant, and more and more consumers are turning their attention to caravans. This year's AIC has interpreted a new way of life to the public while focusing on style and professionalism. I hope Hunan Pilote will grow together with AIC in the future!
Mr. Zhang Tongjie, President of Luoyang Erwin Hymer-Loncen Caravan Co. Ltd.
This is the third time our company has participated in AIC. Throughout the exhibition, a continuous stream of guests came to our booth for consultation, and many of them reached a cooperation intention with us. By participating in AIC, we have not only expanded our business, but also found excellent strategic partners, which are vital to our future development.
Mrs. Chen Yunfen, General Sales Manager of TOURIST RV
As a strategic partner of TOURIST RV, AIC has created opportunities for us to enter the international market. Domestic RV enthusiasts saw a more complete range of RVs, and RVs "Made in China" were shown to the world! Originated from CARAVAN SALON held in Düsseldorf, Germany, AIC has not only presented numerous international RVs, but also spread the RV culture to China to let more people understand RV lifestyle. I'd like to thank AIC for its support to TOURIST RV!
Mr. Yannick Vöhringer, Vöhringer GmbH
This year, AIC was held for the first time at the Etrong International Exhibition & Convention Center (Beijing). Although the number of visitors is slightly lower than the previous editions, the exhibition has improved its professionalism, as evidenced by the fact that those coming to the exhibition are all industry insiders and trade visitors. AIC has been positioned as a high-profile caravan show. It serves as a professional platform for effective branding and product display to promote the gradual entry of German products into the Chinese market.