Discover the Caravanning Holiday Lifestyle: All in CARAVANING 2021 Grandly Opens in Beijing
AIC 2021 – the 10th All in CARAVANING grandly opened at Beijing Etrong International Exhibition & Convention Center on 18 June, igniting a wave of fervor for caravanning in the capital city this summer. This year's show brings together more than 200 brands from home and abroad on a total of 39,000 square meters of indoor and outdoor exhibition areas. Visitors can enjoy the latest models of motorhomes and caravans, cutting-edge technologies, practical accessories and trendy camping equipment. More than 20 professional and promotional events will be held in parallel to the show, giving visitors the opportunity to experience the charm of caravanning holidays.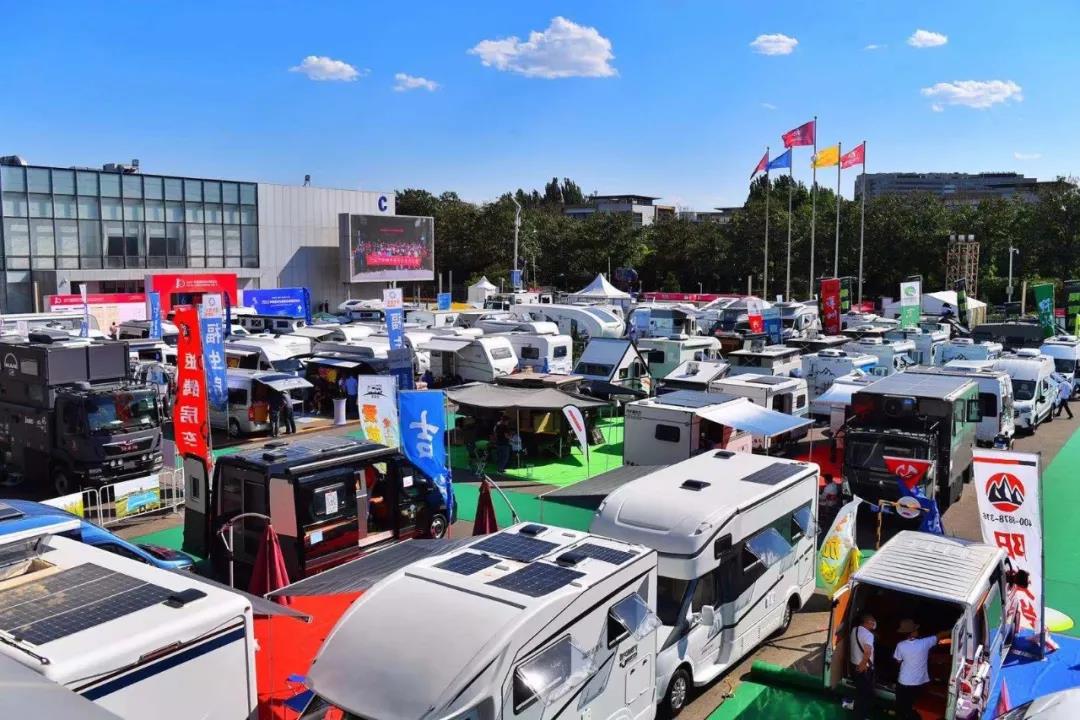 AIC officially opened at 9.30am. Distinguished guests attended the opening ceremony, including Mr. Shan Gangxin, Director of Department of Resources Development, Ministry of Culture and Tourism of P.R.C., Mr. Hendrik Barkeling, Head of Economic Department, Minister Counsellor Embassy of the Federal Republic of Germany Beijing, Mr. Wang Bin, Deputy Manager of China Tourism Group Corporation Limited & Chairman of CTG Asset Development Corporation Limited, Mr. Lu Lu, Director and General Manager of CITS, Vice President of CTACA, President of China Self-driving Tour and Camping & Caravaning Association (STCCA) of CTACA, Mr. Lu Peng, President of China Association of Automotive Manufacturers Recreational Vehicle Industry Committee, Mr. Fang Dehe, Secretary General of China Association of Automotive Manufacturers Recreational Vehicle Industry Committee, Mr. Song Lei, Deputy Secretary General of China Tourism Automobile & Cruise Association, and Mr. Marius Berlemann, General Manager of Messe Düsseldorf (Shanghai) Co., Ltd.
Release of new models from home and abroad to meet the diverse customer needs
This year's edition focuses on the concept of "618 International RV Brand Festival". Renowned local and international manufacturers will unveil their latest and unique caravan models in the outdoor exhibition area, Hall A and Hall B. Highlighted brands include the SAIC Maxus, Hymer-Loncen, CENTECH, Longtree, Yate, Livezone, Tourist, Bochi, i4wd, Famry, and DaChi, etc. More than 50 international RV brands take part in AIC 2021, such as the unique ERIBA Caravan, the German Hobby-Wohnwagenwerk and Knaus Tabbert, the luxurious British Coachman Caravan and Swift Caravan, as well as the LMC, all of which are set to make a splendid appearance and interpret the sense of space and comfort. In short, AIC has so much to offer that it can take more than three days to see it all.
The German Pavilion in Hall A is one of the highlights of this year's edition. Top brands from Germany such as AL-KO, Alois, Truma, ilse, LAMILUX, igus and Vöhringer are presented together on a total area of more than 300 square meters, generating strong brand attraction.
Caravan accessories are located in Hall C, a must-visit for caravanners looking to upgrade their vehicles. With a full range of caravan accessories on display, including kitchen and bathroom facilities, caravan furniture and supply equipment for power, gas and water, visitors can be sure to have fun shopping experiences here. Visitors are highly recommended to visit the AIC Innovation Zone at booth C62, which features a range of high-tech innovations from recognized companies such as TBB, KME, United Industry & Trade, Sanjo Intelligent Technology, MOBO COMPONENTS, Renogy, Gostech Tech, ARANA, Telair, HOUGHTON, Thetford and Dometic.
Setting trends in the industry with an international exchange platform
At 10:30am, Summit on the Development of China's FIT Tourism 2021 successfully kicked off. The summit was organized by AIC and co-organized by the GUOJIALVYE.com and the Traveler Magazine. Experts from Chinese investment institutions, cultural tourism groups, scenic spots, tourism boards, OTAs, rental platforms, RV manufacturers and campsite operators took part in the summit and explored prospects of the culture and tourism industry under the theme of "Breakthrough · Restructure · Integrate". Keynote speakers included Mr. ZHANG Hui, Executive Vice President of the Beijing Tourism Society and Director of the Modern Tourism Research Institute of Beijing Jiaotong University, Mr. LI Baochun, Executive Deputy Secretary General, World Tourism Cities Federation, Mr. LU Lu, Party Secretary and General Manager, Investment and Asset Management Co., Ltd, China Tourism Group, Ms. Mo Keli, General Manager of Meixue Neige (Beijing) Information Technology Research Co., Ltd., Mr. YANG Songbai, General Manager, RV2GO Technology Co., Ltd of SAIC Group, and Ms. HAI Wenhua, Assistant to the General Manager, CYTS Xinjiang. During the roundtable discussion, guests from other renowned enterprises and organizations also joined in to explore two key topics, namely "Will self-driving tours and caravanning be in high demand after the pandemic?" and "How to create self-drive tours that customers are willing to pay for?"
The China RV Parts and Outdoor Products Export Seminar was successfully held on the 17th, the day before the show. Guests from China, Australia and Germany linked up online. Experts introduced production specifications and standards for overseas markets as well as procurement process and purchasing needs, providing positive and effective solutions for Chinese manufacturers to develop overseas markets. At 2:30pm on 19 June, the 2nd Sino-German Dealer Workshop, another important event connecting German experts online is scheduled to take place. Mr. Kai Dhonau, President of the German Caravan Dealer Association will once again join the event to share successful cases from Germany.
Full of fun and joy: it's more than a caravanning trade show
In addition to the hundreds of caravan models on site, AIC offers many interesting zones to visitors. The trendy and fashion-loving shall not miss Hall E to the west of Hall B. Booth E01 is the China Campgrounds of the Year Display Zone featuring the four seasons from spring to winter and showcasing campsite facilities with multimedia displays. Visitors will have the opportunity to join fascinating campground activities in an immersive way, including photo check-in, coconut tasting, lucky draw and writing good wishes. Visitors will also have free access to information on the top 50 selected campsites in China. Booth E02 is the AIC Talent Academy Display Zone, where the 20 winning RV designs will be on display. The works reflect the out-of-the-box and extraordinary creativity of university students and showcase cutting-edge design concepts for the future of caravanning. The unveiling ceremony of the AIC Talent Academy will take place at booth E02 at 10:30am on 19 June. Visitors are welcome to come and join the event.
The AIC Forum is located on the east side of Hall C. On the afternoon of 18 June, Mr. HU Xiaofei, former host of the Feiyu Show and media veteran, will be here and share his thoughts on "Go Camping, and Enjoy Your Home Outdoors". Two exhibitors, Renogy and Mobo, also plan to present their quality products here with live demonstrations. During 19-20 June, there will be more exciting events in the AIC Forum. For example, the highly popular AIC Starter World and AIC Dream Tour will take place here. Mr. WANG Zihao and Mr. PENG Shan will speak at the Starter World about off-road caravans and fun guide on the road. Here, newcomers can get objective and impartial advice on any questions they may have. Mr. BAI Jinming and Mrs. LI Pengda, veteran caravanners, will share their memories and stories about caravan trips.
This year, the AIC Kids Club is located at booth A20 on the east side of Hall A. Nine parent-child organizations are present at the booth to offer a wide range of parent-child recreational programs, such as shadow puppet shows, cartoons, children's theatre performances, and educational and entertainment activities. It is a must-visit place for children.
AIC 2021 spans over the course of three days until the afternoon of 20 June. It will be open from 10:00-18:00 on 18-19 June and from 10:00-15:30 on 20 June at the Beijing Etrong International Exhibition & Convention Center, which is accessible by the subway Yizhuang line at Rongchangdongjie Station. For more information, please visit www.aicshow.com.
Background information on organizer
Messe Düsseldorf (Shanghai) Co., Ltd.

Established in 2009, Messe Düsseldorf (Shanghai) Co., Ltd. (MDS) is a subsidiary of Messe Düsseldorf GmbH, one of the world's top exhibition organizers. MDS is committed to introducing industry leading trade fairs to China and providing Chinese and international customers with superior exhibition services. MDS is successfully holding 13 leading trade fairs and conferences in China, covering a broad range of industries including printing, packaging, wire and tube, plastics, medical devices, retail, safety and health, wine & spirits and caravanning. With a workforce of 60+ fulltime employees, the company's head office is located in Shanghai with a branch office in Beijing. For more information about MDS, please visit www.mds.cn.