Thor Industries and Erwin Hymer Group to Create the Largest Global Recreational Vehicle Manufacturer
Thor to Acquire Erwin Hymer Group and Establish Leadership Position in Growing European Market
Hymer family chooses Thor to continue Erwin Hymer's vision of continuing unique leisure experiences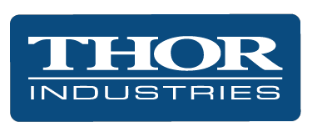 ELKHART, Ind. & BAD WALDSEE, Germany--(BUSINESS WIRE)-- Thor Industries, Inc. ("Thor", NYSE:THO) and the shareholders of Erwin Hymer Group SE (Erwin Hymer Group or EHG) today announced that they have entered into a de􀃒nitive agreement for Thor to acquire Erwin Hymer Group, a privately held international company, for an enterprise value of approximately €2.1 billion, with the purchase price to be funded with cash and equity. Equity consideration will consist of approximately 2.3 million shares of Thor. The Hymer family will thereby remain engaged in the industry. The combination creates the world's largest RV manufacturer, with the leading position in both North America and Europe, and establishes a global sales and production footprint for the Company.Thor expects the transaction to be accretive to earnings in the 􀃒rst year, before taking into account anticipated synergies, purchase accounting adjustments and transaction-related expenses. Subsequent to closing, Thor intends to repurchase shares both opportunistically and systematically in order to o􀃗set the issuance of shares to the Hymer family.
Headquartered in Bad Waldsee, Germany, Erwin Hymer Group (EHG) is one of the premier manufacturers of recreational vehicles in a growing European market, with an impressive lineup of industry leading vehicle brands, a strong reputation for investing in product innovation and a dedication to providing exceptional customer value. EHG sells through a worldwide network of more than 1,200 retail dealerships and employs more than 7,300 dedicated team members globally. EHG's product portfolio spans all major RV categories and price points, from lightweight travel trailers to high-end motorhomes. For the 􀃒scal year ended August 31, 2018, the Erwin Hymer Group expects to generate revenues of over €2.5 billion (approximately $2.9 billion at current exchange rate)."The Erwin Hymer Group has an unparalleled history and reputation as well as a talented management team that is focused on building on that tradition and charting new, attractive growth opportunities for the Company," said Bob Martin, Thor President and CEO. "This transaction provides Thor a unique opportunity to grow with the European RV market leader. The transaction gives us access to a new market with favorable macro and secular trends affecting RV demand similar to those we have seen in North America. In addition, we see numerous areas for nearterm and long-term synergies between the Erwin Hymer Group and our existing subsidiaries and are eager to begin working with the entire Erwin Hymer Group," added Bob Martin.
Christian Hymer, son of the late founder, Erwin Hymer and member of the EHG Supervisory Board said, "With Thor Industries, our family has found the ideal new owner partner for the Erwin Hymer Group to successfully continue on its long-term growth and internationalisation path. Thor Industries and the Erwin Hymer Group are cut from the same cloth and, in their philosophy, still bear the stamp of their founders. An entrepreneurial mindset, a spirit of innovation and quality leadership are top priorities for both groups. Through these shared cultural features and their complementary activities, the two groups will achieve even faster growth together."
Martin Brandt, the CEO of the Erwin Hymer Group, said: "We're looking forward to opening the next chapter of our company's history with Thor Industries, and are convinced that we will mutually bene􀃒t from each other. With Thor Industries, the Erwin Hymer Group will be able to speed up the development of its relatively new activities in the attractive North American market."
Thor's Mr. Martin continued, "This acquisition is well aligned with Thor's long-standing capital allocation strategy. Our focus has been, and continues to be, on delivering value to shareholders by investing opportunistically in accretive growth opportunities with companies that have a strong marketplace position, successful operations, and growth oriented management teams."
Martin Brandt will continue to lead the Erwin Hymer Group business post-closing as its Chief Executive Officer, reporting directly to Thor's Chief Executive Officer, Bob Martin. No changes in production facilities or employee levels are anticipated within EHG or Thor as a direct result of this transaction. The transaction has been approved by Thor's board of directors and is expected to close near the end of the calendar year, subject to customary closing conditions, including regulatory and other necessary approvals.

( Source: Thor Industries, Inc.)