For all those at home in the world
CARAVAN SALON becomes the centre of the caravanning world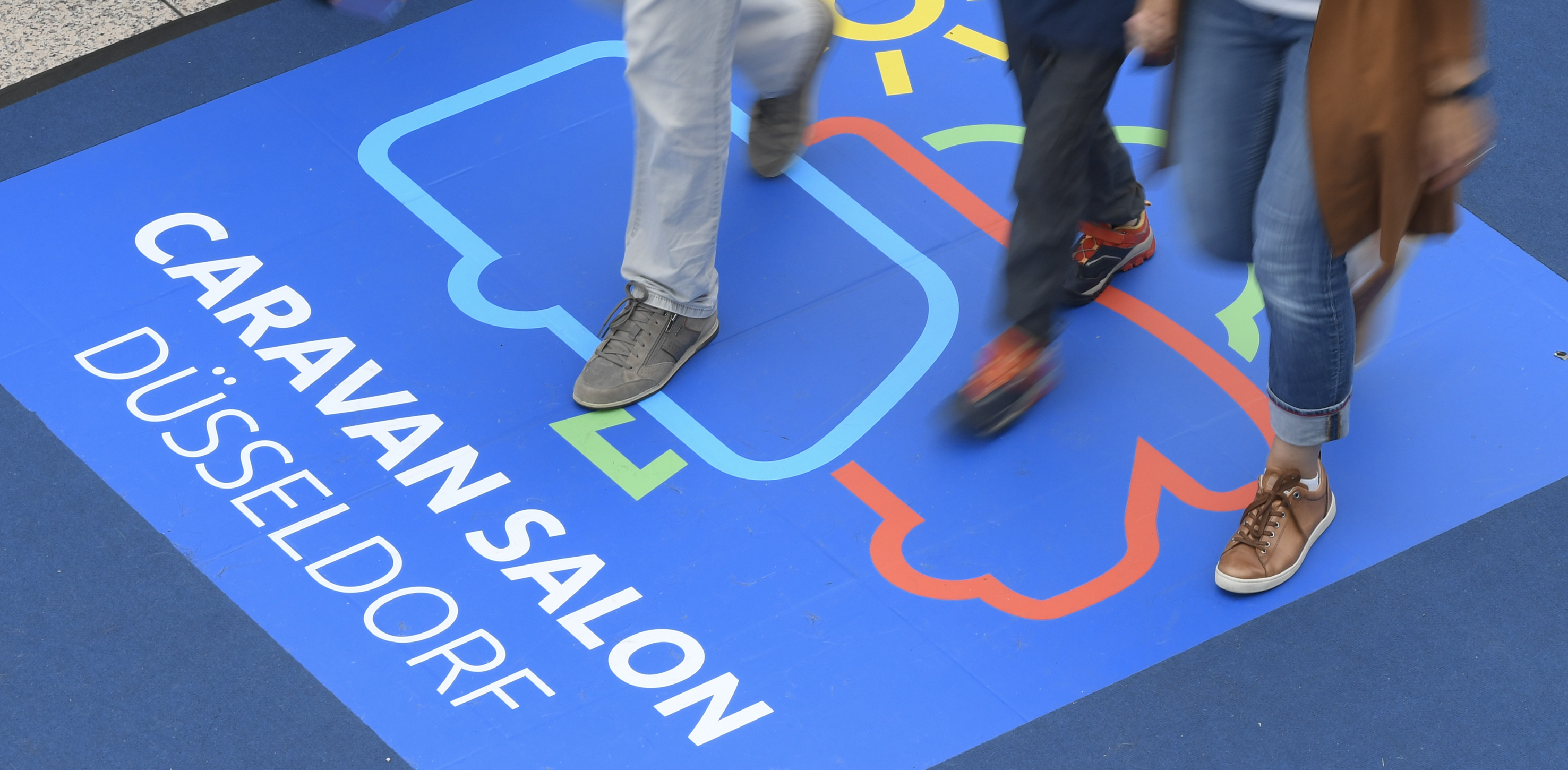 The whole world of caravanning can be experienced at CARAVAN SALON. Photo: Messe Düsseldorf / Constanze Tillmann

Mobile travelling – much more than just a holiday. It is an attitude to life that more and more supporters are now discovering for themselves. For all those at home in the world CARAVAN SALON will become the centre of the caravanning community from 25 August to 3 September. On 250,000 square metres more than 720 exhibitors will be presenting caravans, motorhomes and campervans for every taste and every budget. In addition, visitors will also find base vehicles, accessories, detachable parts, tents, motorhomes, holiday destinations as well as campsites and motorhome pitches in the 16 halls and on the outdoor space. For ten days CARAVAN SALON will be the most relevant international sales platform for mobile leisure and the annual highlight for all caravanning enthusiasts. In addition to its diverse range of products and wide choice of caravanning services, the leading trade fair will once again offer a varied line-up of side events revolving around mobile leisure. Specials and many action-packed, fun-filled attractions invite young and old to visit Düsseldorf Exhibition Centre. Furthermore, CARAVAN SALON has also developed into a key dialogue platform for experts and industry associations from around the world.
"Deutscher Stellplatz-Tag": "sustainable, digital and informative – what moves us and how we make progress"
In Germany there are currently almost 4,700 motorhome parks with over 71,000 pitches – not enough to keep up with the rising number of motorhomes. A development that also brings into focus more and more pitches in off-the-beaten-track locations and one that gives an increasing number of regions the chance to benefit from the caravanning boom.
Against this background CIVD, ADAC and DTV extend an invitation to the 3rd Deutscher Stellplatz-Tag (German Pitch Day) held at CARAVAN SALON in Düsseldorf under the heading "sustainable, digital and informative – what moves us and how we make progress" on Monday, 28 August 2023. The event programme featuring longstanding industry experts and scientists promises exciting insights into nature-compatible tourism projects, the profitability of charging infrastructure at motorhome parks and campsites, into what tenants expect of overnight accommodation and what Gen 'Z' thinks of motorhome tourism.
Show pitches on the outdoor premises
The Caravaning Industrie Verband (CIVD) will again present innovative solutions revolving around pitch technology and infrastructure in a special exhibition on the outdoor space between Halls 10 and 17 this year. By means of practical examples experts and manufacturers will demonstrate how motorhome parks are successfully planned and operated. A special focus will be placed here on the themes sustainability and e-mobility. As in previous years, visitors will have the chance to obtain expert advice on site.
Symposium "Natur.Tourismus.Zukunft": "Experiencing Nature: Adventure, Outdoor Sport and Sustainable Tourism"
More and more people wish to spend their leisure time in nature. For many tourist regions and players this trend is a genuine opportunity to reconcile nature conservation and quality tourism with well thought-out and sustainable concepts.
But what do sustainable tourism projects look like in practice? And how can sports offerings be linked with nature conservation? Under the motto "Natur (er)leben: Abenteuer, Outdoor-Sport und nachhaltiger Tourismus" (Experiencing Nature: Adventure, Outdoor Sport and Sustainable Tourism) this topic will be discussed by representatives from political, business, scientific and sports spheres at the "Natur.Tourismus.Zukunft" symposium on Tuesday, 29 August 2023. Participants can look forward to best practice and an active exchange on sustainability themes.
CIVD presents new training curriculum
The first apprenticeship curriculum specifically geared to this sector is an important milestone for the caravanning industry. In the newly established subject "Caravan and Motorhome Engineer" specially skilled technicians will be trained in the manufacturing, maintenance and repair of caravans and motorhomes in future. With this move the caravanning sector is actively responding to the enormous demand for skilled labour. This year, the CIVD will also dedicate a separate stand to this new apprenticeship on the outdoor premises of CARAVAN SALON. Here, industry representatives will inform potential trainees and their parents about the training content and the outstanding career prospects in the caravanning sector.
ADAC is looking for the "Camper of the Year 2023"
ADAC is looking for the "Camper of the Year 2023". The finals of the national German competition will be held on Saturday, 2 September (11.00 am to 4.00 pm) at CARAVAN SALON (outdoor space in front of Hall 10). Eight "mobile homers" from all over Germany have qualified for these finals during the ADAC Camping Days in June or with a wildcard and will have to demonstrate their skills in various driving disciplines as well as performing a number of special tasks. In addition to being enormously entertaining, the ADAC Camper of the Year focuses above all on road safety.
StarterWorld in Hall 7 – a "must" for newcomers
The StarterWorld in Hall 7 gives all newcomers the key pointers required prior to buying or renting motorhomes and caravans. Independent advice is key here. The experts will also be ready on hand to answer any questions and offer one-to-one tailored solutions. In addition, the lecture forum offers a varied programme covering a wide variety of themes for newcomers in mobile leisure.
Self-Conversion Adventure
At the "Self-Conversion Adventure" by "Explorer / Vanderlust" in cooperation with Martin Kreplin on the outdoor space in front of Halls 13 and 14 hobby converters can find practical tips for converting and expanding their vehicles into mobile homes. Varying daily lectures for beginners, advanced and professional fitters will cover themes such as power and energy supply, workshop and materials science, heating and cooking, living and joinery, windows and hatches as well as insulation or layout planning.
Hall 3: Equipment & Outdoor and Travel & Nature
Hall 3 is the place to be for those loving outdoor activities – from the next hiking tour up in the hills, a paddling excursion on an idyllic mountain lake, high-octane rafting through rapids to relaxed SUP on calm rivers. Under the motto "Travel & Nature" and "Equipment & Outdoor" it is wonderful to dream of your next caravanning holiday in the mountains or by the sea. Here traditional and alternative campsites and RV parks, the most attractive regions and the most varied leisure activities are featured; furthermore, numerous destinations throughout the world provide information on great locations for the most beautiful time of the year. In addition, there is a host of inspirations and tips provided for the right gear for outdoor sports. Likewise, the suppliers of tents, folding caravans, caravanning and camping accessories will showcase their diverse ranges. The "Travel & Nature CONNECTED" stage at the centre of Hall 3 will present an exciting mix of entertainment and presentations on equipment, leisure activities and destinations.
E-Bike Circuit in front of Hall 15
Cycling is one of the favourite hobbies of many caravanning fans. E-bikes in particular enjoy great popularity and are often used for the "last mile" between the campsite and the destination.. On the outdoor space in front of Hall 15, the E-Bike Parcours allows visitors to try out the handling characteristics of e-bikes and e-scooters on a dedicated circuit.
The caravanning tours of dreams and racy EOFT movies
At the DreamTours Cinema in Hall 1 / 1st floor, spectators will be able to experience exciting caravanning destinations once again this year. Konstantin Abert, Janette Emerich and Uwe Hamm will take caravanning fans to dream destinations near and far, wowing them with their delightful shows. Spectacular outdoor and adventure films can be viewed on Friday, 1 September at the European Outdoor Film Tour (EOFT). On the Travel & Nature CONNECTED stage in Hall 3, the EOFT crew will provide a sneak preview of the cinematic future of outdoor sports. Be it in the deep jungle, in icy caves or "en route" around the whole world – the silver-screen professionals will show how much inspiration the world out there and every one of us holds.
Actions for children
In Hall 3, a rally organised by the German Ramblers' Association (Deutscher Wanderverband) and Messe Düsseldorf will ensure that the CARAVAN SALON is also an experience for children during the entire duration of the fair. Equipped with a passport, the kids can explore the hall and solve small riddles at various exhibitors or prove themselves in a variety of hands-on activities. CARAVAN SALON DÜSSELDORF offers adventure and sports activities galore for youths and children. The youngest amongst us will strike it rich here. Like in previous years, a great line-up of join-in activities, fun, games plus many highlights await kids on the outdoor space.
Preview Day
The Preview Day on Friday, 25 August, will allow visitors to enjoy the debut of the leading trade fair in an exclusive setting. Thanks to the limited number of tickets issued, interested parties can visit vehicles and innovations at leisure and obtain insightful advice from exhibitors.
Caravan Center
Those wanting to turn the trade fair visit into a mini-break, should head for the popular Caravan Center at the trade fair's parking lot P1. This, Europe's biggest RV park with some 3,500 serviced and unserviced pitches open for the run-time of CARAVAN SALON, will bring the community together. Due to high demand the pitches are "snapped up" quickly and should therefore be reserved early at the Ticketshop at www.caravan-salon.de
Tickets and prices for CARAVAN SALON Düsseldorf 2023:
1-day tickets for adults cost € 19 for weekends, € 17 during the week; discounted tickets (college & university students, Club CARAVAN SALON & boot, ADAC) cost € 16 for weekends, € 14 during the week while for children (aged 6 to 12) the 1-day ticket costs € 8 for weekends and € 6 during the week. In addition, an afternoon ticket will be offered at € 10 from Monday to Friday (2.00 pm to 6.00 pm). Preview Day tickets for adults cost € 35 (discounted € 30), children aged 6 to 12 pay € 8.