Thetford Debuts Ladder Mount for 'ToteSmart'
Thetford Corp. has introduced Ladder Mount, a storage system that allows RVers to mount their Thetford SmartTote portable waste tank on the RV ladder.

"What we heard from RVers is that they were employing makeshift solutions to store their tote," Thetford's Senior Product Manager Derry Yourman said in a press release. "Ladder Mount eliminates that with a strong and durable system made specifically for this purpose."

Ladder Mount is engineered to be easy to use and built to last. The storage arms swivel and lock out of the way, allowing RVers easy access to their ladder when not storing a tote. Ladder Mount also saves valuable storage space, as well as being more sanitary than RV compartment storage.

"Ladder Mount is a universal solution – it will secure all tote brands," Yourman said, adding that Ladder Mount will also store bikes, chairs and more up to 50 pounds.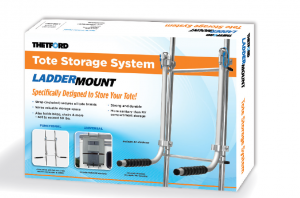 (Source:RVBusiness)